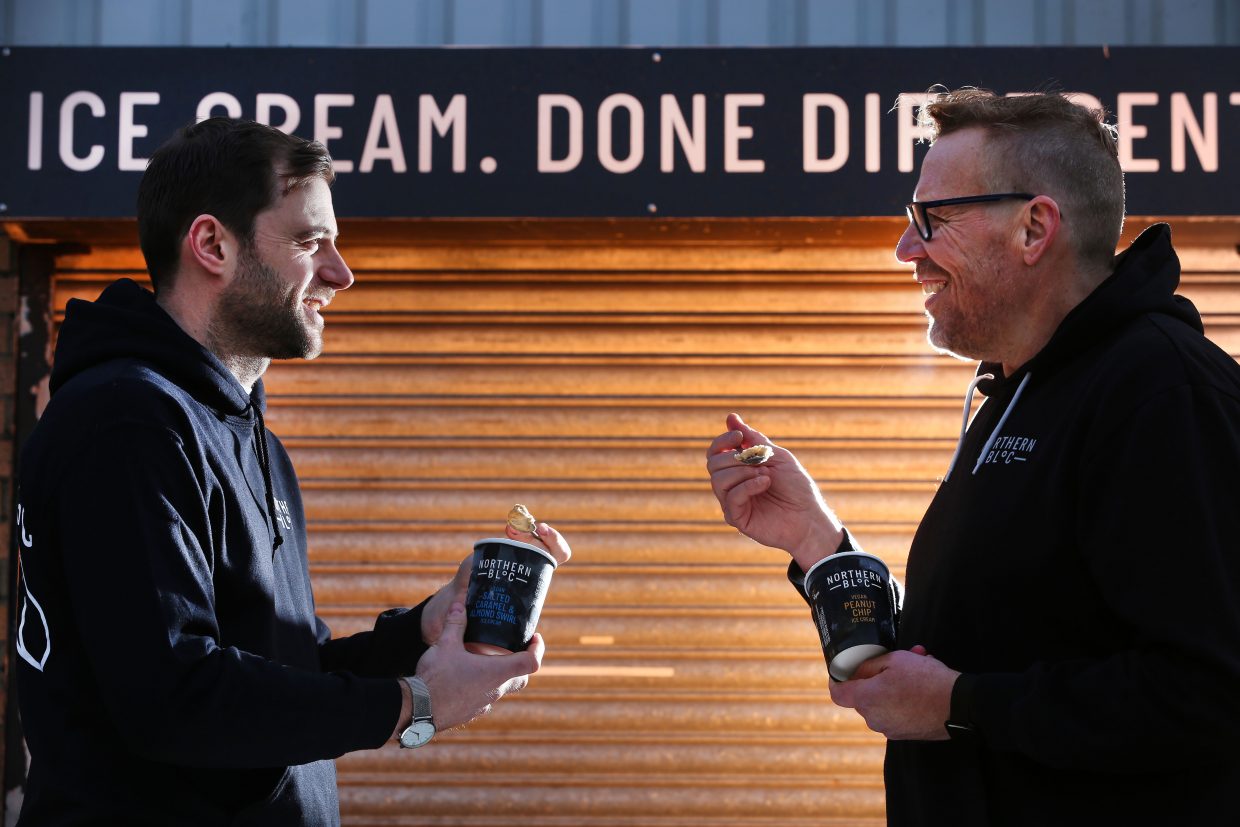 AFTER A UNPRECEDENTED AND TOUGH YEAR FOR ALL, WE ARE PROUD TO ANNOUNCE THAT THANKS TO THE HARD WORK AND EFFORTS OUR TEAM HAVE PUT INTO NB°C OVER THE YEARS, WE HAVE KICK-STARTED 2021 BY SECURING A SEVEN FIGURE SUM FROM MOBEUS EQUITY PARTNERS TO FULFIL OUR AMBITIOUS EXPANSION TARGETS IN THE GROWING PLANT-BASED SECTOR.
PLANT-BASED AND THE PANDEMIC 
The pandemic has made a vegan diet more appealing to a quarter of British millennials, according to Mintel*. Across all Brits, the figure is over one in ten (12%.) Northern Bloc's own sales support that, with vegan supermarket sales up over 60%** on last year. Another study by Veganuary*** showed that 32% of all Brits are eating more vegan food, with nearly a half (41%) admitting that this is due to the link between animal agriculture and pandemics.
Dirk says "The appetite for sustainable eating has jumped forward five years, in the space of just one. The result of our actions on the planet became very real in 2020, both in terms of the origin of the pandemic and the positive changes that were made to the environment during the global lockdown. Plant-based is no longer a dietary requirement, it's fast becoming a way of life and Northern Bloc is proud to be at the forefront of bold, innovative, amazing tasting products which suit this revolution. Entering Veganuary, our aim is to continue to grow our business, building on our strong base in the retail market whilst maintaining our premium offering for the out of home sector."
ICE CREAM FOR ALL
Our directors Josh and Dirk co-founded Northern Bloc in 2014 with a vision to make ice cream more than just a summer treat; by using fresh, natural ingredients and a chefs approach to sourcing and creating new flavours and experiences.  
Since our street food days, our brand has grown rapidly and we now have a 20+ strong team.  We have national  distribution in the retail sector, with listings in Ocado, Co-op, Waitrose and Morrisons as well as internationally, but our heritage is in out-of-home. Our individual tubs are available in theatres, arts venues and tourist attractions across the country and when the lockdown hit and many of these venues closed, we had to  adapt and we shifted our focus further towards retail, whilst maintaining support for our key out of home customers. 
The back end of 2020 saw us launch a new, limited edition vegan ice cream called The Show Must Go On! available exclusively in Waitrose. Proceeds from the white chocolate and honeycomb flavour are donated to Theatre Support Fund+, an incredible organisation set up by two employees of the West End, which supports arts charities responding to the COVID-19 pandemic.  
Back in January 2020 we also became the first ice cream brand in the UK to introduce fully sustainable packaging, removing the plastic coating on its paper tubs to a fully recyclable, compostable alternative.
Josh continued "Doing the right thing is at the heart of Northern Bloc, from leading the way in sustainable innovation to supporting our partners and customers. Partnering with a responsible investor was fundamental to our growth strategy and we're delighted to be working with Mobeus, a business which shares our vision and values."
We will be investing the funding in increasing its production capacity, strengthening the team and focusing on our brand experience.  Jane Reoch, Investment Director from Mobeus Equity Partners, commented: "Northern Bloc is a true breakthrough brand, well positioned for growth as the plant-based movement garners global attention. The products use all-natural flavours with no compromise on quality or taste. Dirk, Josh and the team have been a pleasure to work with throughout the transaction"
We'd like to take this opportunity to thank our incredibly hard working team, our legal advisers, Sarah Webster and Dan McCormack at Lupton Fawcett and Mobeus for believing in us. 
We're certainly excited for our new chapter and we hope you are too!
 Josh, Dirk & the NB°C Team
*https://www.mintel.com/press-centre/food-and-drink/pass-the-avocado-on-toast-a-quarter-of-young-millennials-say-covid-19-has-made-a-vegan-diet-more-appealing
** Based on retail sales from March 2020 – Nov 2020 versus March 2019 – Nov 2019 
***https://vegconomist.com/studies-and-numbers/veganuary-survey-reveals-how-covid-impacted-participants-six-months-later/