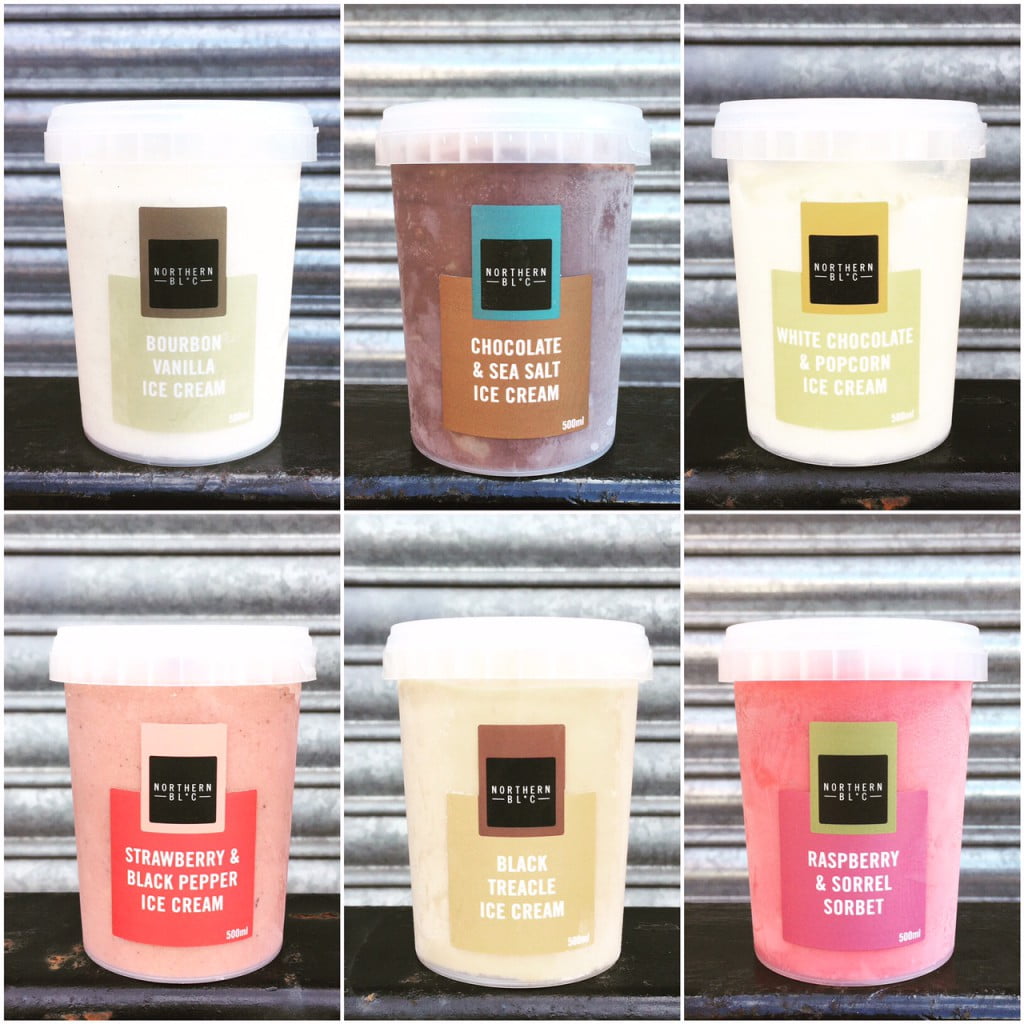 Northern Bloc are extremely pleased to announce that their new range of "Sharing Bloc's" (500ml take home pots) will be available to buy from Keelham Farm Shops from this weekend in the following flavours:
Bourbon Vanilla Ice Cream
Chocolate & Sea Salt Ice Cream
White Chocolate & Popcorn Ice Cream
Strawberry & Black Pepper Ice Cream
Black Treacle Ice Cream
Raspberry & Sorrel Sorbet
We are extremely excited to be working with Keelham Farm Shops as we believe in their ethos of making great tasting sustainable food available to everyone, as they mimic our own values.
We believe great ice cream should be enjoyed by everyone, so our menu always includes flavours with are dairy free, low fat and vitamin rich. Working closely with local suppliers ensures we know exactly where our produce comes from and that it is always of the highest quality. You'll find no synthetic syrups or additives in our ice creams, just simple, responsibly sourced ingredients blended with style. In exploring ice cream's potential our chefs aim to truly innovate to create the best quality and most forward thinking ice cream from our inner city laboratory. We set out to challenge the outdated perceptions that influence how ice cream is made, served and eaten.
Third generation co-owner, Victoria Robertshaw, who runs Keelham with her brother, James Robertshaw, comments: "Sourcing locally is really important to us and we carefully hand-pick the Yorkshire suppliers that stock our shelves. We're excited to introduce Northern Bloc ice creams to our shops in both Thornton and Skipton, it's truly tasty. We've tried and tested every flavour and the Chocolate and Sea Salt ice cream is a particular favourite. It's great to welcome new producers to the Keelham team as part of our ongoing quest to introduce our customers to more of Yorkshire's independent foodie gems."
We will be bringing some fun to the new Skipton shop on Saturday 15th August and the Thornton shop on Sunday 16th August and giving out free samples from our beloved 1972 ice cream van.  The first 30 people at each location to quote "I'm making ice cream one of my five-a-day" to one of our team will receive a special free tote bag!
Come and see us there!