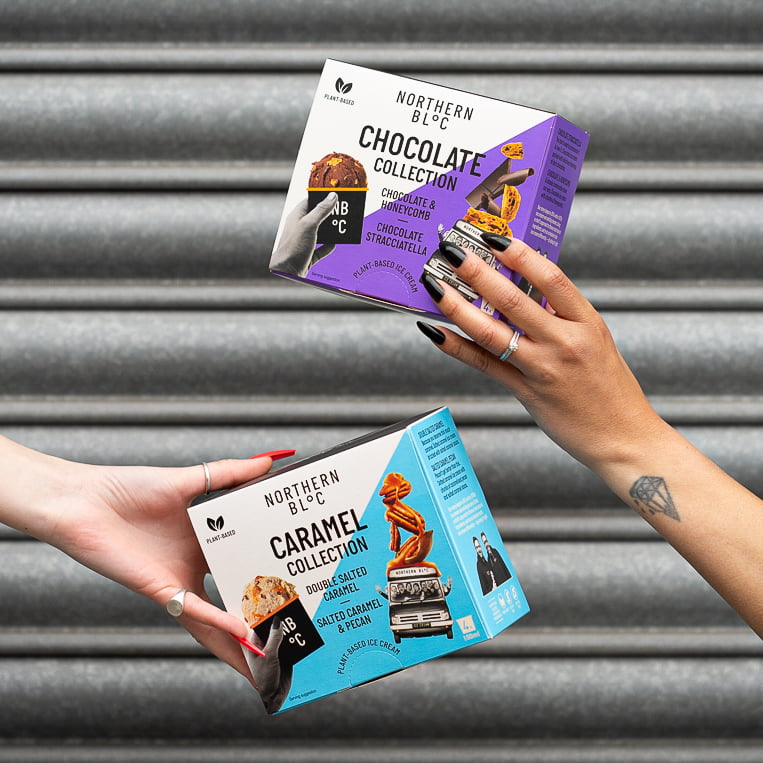 Hey there, ice cream aficionados! Who says summer gets to have all the fun when it comes to indulging in ice cream? Not us! Autumn is here, and we're ready to spice up your cozy nights in with a scrumptious twist. Buckle up for a rollercoaster of plant-powered flavour sensations, courtesy of our Chocolate and Caramel Collections!
As the leaves paint a tapestry of reds, yellows, and oranges and the air gets that extra bit crispy, it's time to dive headfirst into autumn. There's just something extra special about pairing the autumn vibes with creamy, dreamy ice cream. And we've got just the ticket! Our plant-based ice cream multipacks are your passport to autumn dessert delight.
What's in the Box?
Let's talk about these game-changers. We're not just giving you one scoop; we're serving up four perfectly portioned tubs of pure indulgence. Brace yourselves for an epic journey through flavour town with our:
THE CHOCOLATE COLLECTION:
Chocolate Stracciatella: It's chocolate on chocolate! You don't need to pronounce it to love it!
Chocolate & Honeycomb: A classic combo. Done our way.
THE CARAMEL COLLECTION: Salty, sweet more-ish taste sensation.
Salted Caramel Pecan: Pecan't get better than this!
Double Salted Caramel: Double the caramel fun, with a pinch of salt to keep things interesting.
Plant-Powered Pleasure:
Did we mention that these indulgent treats are entirely plant-based? That's right, no dairy here! Our ice cream packs a punch of deliciousness without the moo factor. Vegans, lactose-intolerant folks, and dairy-lovers alike can join the party. It's proof that indulgence knows no bounds.
Autumn Nights In, Sorted:
With autumn evenings in full swing, we've got you covered. Grab your cozy blankets, queue up your favourite shows, and let our mini tubs of heaven elevate your CHILL game. The convenient portions let you savour a new flavour every night – no need to commit to just one!
Where to Get 'Em:
Ready to embark on your journey? You can snag our plant-powered ice cream multipacks at these cool spots – some will even deliver it to your door!
Waitrose
Booths
Amazon
Zebra
Co-op
Ocado
In a Nutshell:
Autumn is here, and it's time to indulge your sweet tooth with our plant-based ice cream multipacks. The Chocolate and Caramel Collections will take you on a flavour adventure you won't want to end. So, gear up for some serious fun, bold flavours and CHILL vibes because ice cream isn't just a summer fling—it's an all-year-round love affair.
Well, what are you waiting for; your taste buds are waiting for the adventure of a lifetime. Let's make this autumn unforgettable, one mini tub at a time!