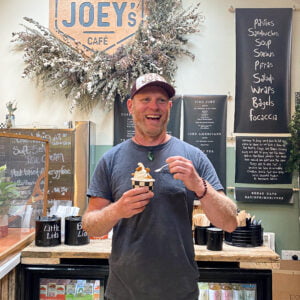 Joey's Café at the Castle, Wray Castle to be exact, is a plant-based bakery and coffee house serving delicious treats and hot snacks. Surrounded by nature, history and stunning views, this is a stop you need to make.
Joe Beaumont set up Joey's Café after a near-death accident in 2011 which changed his direction in life. Joe likes to say that "the breaking of me was the making of me," and it's this positive attitude and drive which you can feel coursing throughout every aspect of his business. The positivity is quite contagious.
At the core of Joey's Café is their forward-thinking environmental stance. They only offer compostable or recyclable packaging, they opt for non-processed, as-local-as-can-be, as-ethical-as-can-be ingredients and products. The team believe that they're in the business of education and aim to challenge ideas about what plant-based means (and tastes like). And their delicious products really do speak for themselves.
More recently Joey's Café introduced THE WHiP! by NORTHERN BL°C to their offering. THE WHiP! is a brand-new plant-based soft serve ice cream which is totally allergen free.  The best part is that it's an indulgent, quick serve option for all without any compromise on taste. It's truly delicious.
SINCE THE SUMMER BEGAN, JOEY'S CAFÉ HAVE BEEN SELLING AROUND 400 VANILLA WHIP! ICE CREAMS A DAY!
Whether you're popping in for a quick coffee, an ice cream to cool down or to refuel after a long walk in the lakes, Joe and his team make you feel like you're part of the family. Therefore, we suspect that after a first visit you'll be eager to head back. Thankfully, you can also find Joey's treats at other National Trust locations including; Claife Viewing Station and Joey's Cafe in the orchard at Hill Top.
If you need us, we'll be enjoying THE WHiP! with some of Joey's homemade cherry sauce looking over Lake Windemere.
Ellen, Team NB°C