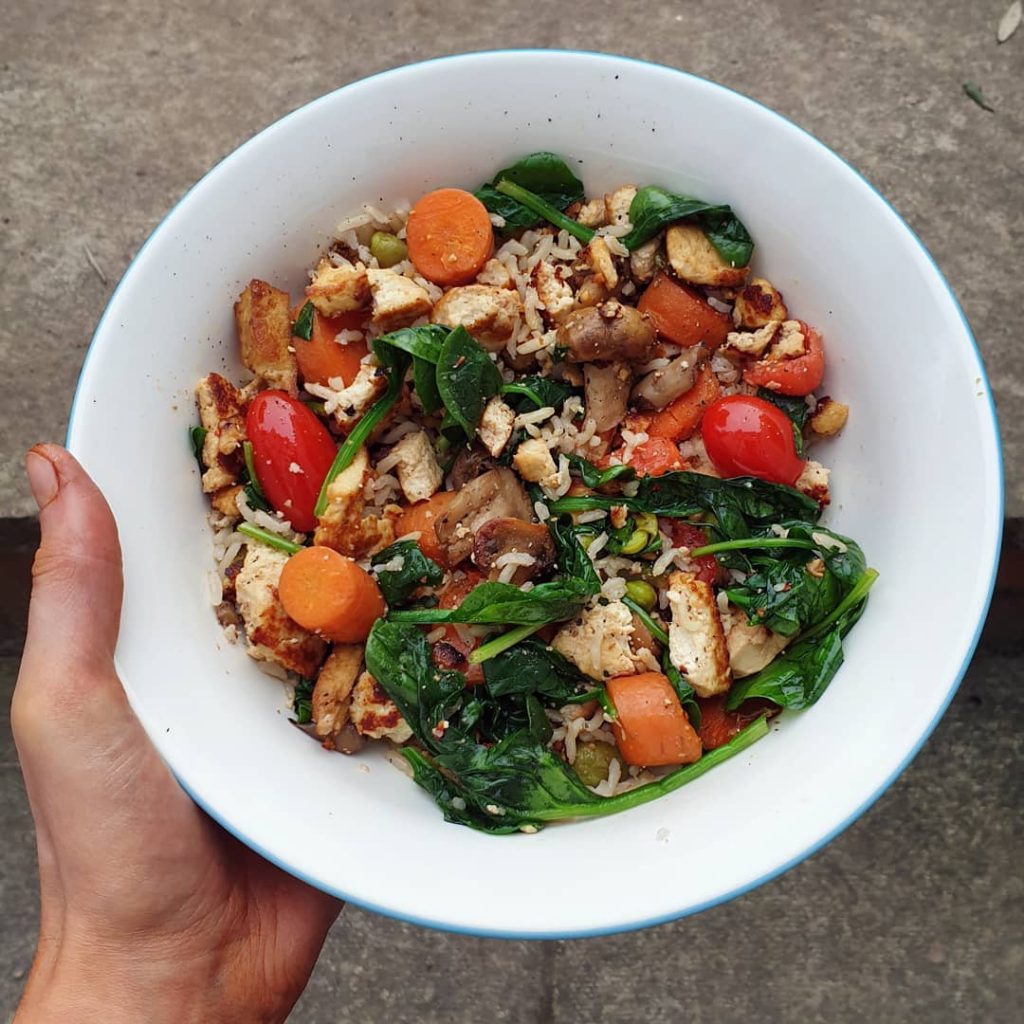 #ChefJodie Veganuary
Hi, I'm Jodie Grant, otherwise known as #ChefJodie on Instagram (@jodieseangrant). I started working for Northern Bloc in September, as a Business Development Manager within the sales team.
A little bit about me –
Prior to adopting a vegan diet for Veganuary I identified as a flexitarian (i.e. around two-thirds of my meals were plant-based). As a result, many of my #ChefJodie dishes over the years have primarily been centred around getting creative with all the veggies, I commonly use the phrase 'eating the rainbow' aka trying to include as many different coloured vegetables on my plate as possible. Being the certified foodie I am, led me to my studies at the University of Leeds, where I completed my Masters in Nutrition. In addition to this, I am also a fitness enthusiast, so ensuring I am meeting all my dietary requirements is essential for optimum physical performance and building muscle #gainz. In essence, my core values are simply to be the healthiest, happiest version of myself I can be and to help others do the same.
The word 'healthy' to me means eating intuitively i.e. listening to your bodies hunger signals, eating balanced meals but also allowing yourself those sweet treats. Diet culture in today's society means many of us may associate treats with feelings of guilt or labelling them as 'cheat-meals/foods'. One of my goals in life is to help people remove this psychological label that any one food is 'good' or 'bad'. Food should be enjoyed, each bite should be savoured and associated with happy memories. This anti-diet standpoint was one of the main reasons I was drawn to Northern Bloc – a 100% natural ice cream, that tastes DELICIOUS and isn't labelled as 'guilt-free' or 'low-calorie', but rather, there to be the sweet treat your body wants and DESERVES. Northern Bloc's fab vegan range also adhered perfectly with my flexitarian principles and of course meant that during Veganuary my sweet treat was sorted.
In this blog article I will be including my favourite #ChefJodie vegan recipes and using my expert Nutrition knowledge to give some key tips on how to make sure you're meeting all your macronutrient (protein, fat, carbohydrates and fibre) and micronutrient (vitamins and minerals) needs whilst adhering to a vegan diet. I'll then go on to list the main reasons that I enjoyed embracing the vegan lifestyle (including my invite to the Vegan Society's Veganuary Pop-up Party!).
#ChefJodie Vegan Recipes/ Eating – Out
The definition of a strictly vegan diet is one that excludes all products of animal origin including meat, poultry, fish and seafood, dairy products, eggs and honey (Kirstensen et al., 2015). I'll be listing my go-to vegan breakfast and meal-prepped lunch, as well as two evening meals cooked from scratch. All the dishes I have included are simple and super quick to prepare – of course there are thousands of vegan recipes online which are slightly more complex but personally I HATE waiting for food to cook and enjoy eating food in its least processed form. For those of you either, too busy to meal prep or in need of a quick and easy, grab-and-go vegan meal, I'll also list some of my favourite vegan dishes when eating-out.
Vegan Breakfast – #ChefJodie Porridge
Ingredients; Plenish chocolate-almond milkshake, Quaker jumbo-oats, chia-seeds, maca powder, banana, grated courgette, blueberries, blackcurrants, redcurrants, raspberries, walnuts, pumpkin seeds, linseeds, sunflower seeds and sesame seeds.
I've eaten porridge every morning for the past 4 years, you could say it's my #ChefJodie forté and I'm definitely not afraid to get creative with the ingredients.
– Oats – a complex carbohydrate and source of dietary fibre
Complex carbohydrates are broken down slowly in your body thus provide slow, sustained energy to fuel your morning (rather than a sudden sugar spike and crash). Oats are also a great source of dietary fibre, specifically beta-glucan, a type of dietary fibre that has been recognised as having blood cholesterol-lowering properties.
Oats act as a blank canvas, an opportunity to add all those nourishing functional foods like;
– Walnuts and seeds – high in omega-3's.
Given that vegans do not consume fish, intake of the omega-3 fatty acids may be low. Omega 3's are essential micronutrients needed for brain development and heart health. Therefore, by including walnuts and seeds in your morning porridge you can adhere to a vegan diet and are likely to successfully meet the dietary guidelines which suggest you should be consuming around suggests about 250 mg per day (Palmer, 2016). Other vegan sources of omega-3's include soy, flax and hemp.
– Chia seeds – source of omega-3's, fibre and protein
There are 3 grams of protein per 1 tablespoon of chia seeds, therefore they are one simple way to help ensure your daily protein requirements are met on a vegan diet.
– Berries – packed with anti-oxidants.
Antioxidants reduce your risk of various diseases (cardiovascular, cancer etc) in later life.
Vegan Lunch/ #ChefJodie Go-To Meal Prep
Ingredients; Cauldron teryaki tofu pieces, roasted walnuts, cherry tomatoes, carrots, edamame, spinach, mushroom & Tilda wholegrain rice. If you head over to my #ChefJodie Blog, I have written a detailed recipe on how create a meal-prep dish very similar to this (ChefJodie, 2020).
This recipe isn't a strict combo – I often change it up with different veggies such as butternut squash, broccoli or kale. You can also use different flavours of Tilda Rice (Lime and coriander, Sweet chilli and Coconut are some of my favourites). Additionally if you like your food to have that spicy kick you could add some chilli flakes or drizzle with chili oil. In the past I've found adding cashew nuts gives an extra crunchy texture, so give that a try too!
When adhering to a vegan diet it is entirely possible to meet one's protein requirements. However, many plant-based proteins may fall short on one or more essential amino acids, so it's important that vegans make a conscious effort to consume diverse sources of plant-protein daily – such as tofu, tempeh, soy- based foods, lentils, nuts and seitan.
– Tofu and edamame beans – sources of soy protein
Protein is essential for maintaining muscle mass and supports immune function. The daily requirement of protein for an adult is around 0.7 g per kg of body weight (i.e. I am 61 kg – so 61 x 0.7 = 42.7 g of protein needed per day).
One major advantage to going vegan and using tofu or quorn as your meat substitute is that you can keep your meal prep stored for a longer period without it going off/ unsafe to eat (as would be the case with chicken etc).
– Spinach – source of iron and vitamin C
Spinach is a source of non-heme iron (basically plant-based iron rather than heme-iron found in animal products). Non-heme iron generally isn't absorbed into the body as efficiently as heme-iron, however spinach is rich in vitamin C which significantly boosts iron absorption.
– Veggies – contain calcium, Iodine and many more…
Vegetables are packed full of essential vitamins and minerals, including calcium and iodine. Calcium is important for bone health as well as muscle and nerve function, whilst Iodine is used in the production of thyroid hormones, which control metabolism.
Vegan Dinner – #ChefJodie Chilli-Non-Carne
Ingredients; Vegan Mince (when I initially made this dish I was not vegan so I used Quorn Mince which contains egg but there are many vegan minces available – brands include; Waitrose-Vegan, Asda Plant-Based and Morrisons V-Taste), chopped chillies, chilli flakes, kidney beans, onions, spinach, tomatoes, carrots, tomato pureè, garlic and Tilda wholegrain rice with quinoa.
– Kidney Beans – source of protein
Beans and legumes such as kidney beans, lentils, chickpeas, peas and edamame are all a great source of vegan protein. They're also a great source of fibre so keep your digestive health in check.
– Chillies – anti-inflammatory properties
As well as adding some heat to your dish, studies have shown that chillies demonstrate anti-inflammatory benefits i.e. help your body's immune system to fight off infections (Mueller, 2010).
Vegan Dinner – #ChefJodie 'Bangers & Mash'
Ingredients; Linda McCartney Vegetarian (also Vegan) Sausages, Sweet Potato, Avocado, Spinach, Cherry Tomatoes, Carrot and Mushrooms.
Granted some people view avocados as non-vegan due to the bee pollination involved, however personally I did include avocado into my vegan diet.
– Avocados – contain healthy fats (monounsaturated fats)
Monounsaturated fat helps to protect against heart disease and lowers blood pressure. They are also a rich source of vitamin E which acts as an antioxidant.
Overall, the general theme to all my #ChefJodie vegan dishes is that I aim for;
– at least one or more sources of vegan protein (edamame, tofu, quorn etc)
– a complex carbohydrate to give me long-lasting energy to boss the day (rice, sweet potato, oats etc)
– a source of healthy fats (avocado, nuts, seeds etc)
– plentiful sources of fibre (veggies, wholegrains etc).
One of the main micronutrient deficiencies common in vegans is in vitamin B12 – you can get tested for this by your doctor. Ways to combat this deficiency include, taking daily supplements or consuming breakfast cereals fortified with vitamin B12.
Eating-Out Vegan – #ChefJodie's Favourites
Itsu – Vegan Quinoa Falafel Rice Bowl –
Two baked quinoa falafel, red & brown rice, fresh seasonal greens in a velvety red thai coconut sauce, all topped with spicy gochujang and teriyaki sauce.
Wasabi – Teryaki Tofu Brown Rice Bowl
Marinated fried tofu with teriyaki sauce, brown sushi rice, sesame oil, avocado, red cabbage, roasted butternut squash, edamame, cucumber, sesame seeds, spring onions, mixed salad leaves, chives and Japanese dressing.
Wagamama – Avant Gard'n (minus the vegan egg cos they'd run out that day)
Barbecue-glazed seitan, grilled shiitake mushrooms, asparagus, spring onions, edamame, carrot, sesame seeds and brown rice. Followed by dessert at Wagamama – a few scoops of Northern Bloc's glorious Chocolate & Orange Blossom vegan ice cream!
What #ChefJodie enjoyed about taking part in Veganuary/ conforming to a vegan diet?
– I made to healthier food choices, cooked more and saved money:
Creating healthy, balanced vegan meals the #ChefJodie way doesn't require professional cooking skills but it does involve buying fresh produce – vegetables mainly. For example, my go-to meal prep lunch only requires simple microwave rice or whole grain pasta and some stir fry vegan tofu and nuts. Meal-prepping helps you save money and reduces the stress of trying to find an affordable vegan option on your lunch break. The whole concept of cooking your meals for the week on a Sunday evening can also help you feel organised and and confident that you're making healthy food choices throughout the week.
– I read food/drink packaging labels more:
To ensure you're sticking to a fully vegan diet it is necessary to check that all your foodie purchases have that all important for that vegan-certified tick. I actually found it really interesting to analyse the ingredients in all the foods I was eating. I found myself limiting my purchase of foods that contained artificial preservatives/flavourings/additives etc. and instead going for those which were more natural. This is one great thing about Northern Bloc ice cream, all the ingredients are 100% natural so you can be assured that your body will not be harmed by any nasty man-made chemicals.
– I became part of a community with one shared vision:
One of the major positives I found taking part in Veganuary was the fellow vegans that reached out to me via Instagram. They offered me advice when I first announced my plans to take part and sent me messages of encouragement as the weeks went on. This is one major positive to adopting a to vegan lifestyle – the community is supportive and its core values are of care and consideration of all living things on the planet. By taking part in Veganuary I had personally made a small, but positive step towards reducing the demand for animal products / the farming industry, consequently slowing the effects of climate change.
– I became part of an exciting growing trend and was given the opportunity to meet some of the amazing people that drive the Veganuary hype in it's true glory – the Vegan Society.
With nearly every café/restaurant now listing a tasty vegan dish and new vegan products being created by companies within the retail sector all the time, being in the midst of this rising trend as the consumer was really exciting.
On the 30th of January I attended the Vegan Society's Pop Up for the Planet party to celebrate the end of Veganuary held Mare Street Market, London. It was such a beautiful venue and I felt so lucky to be invited to an event organised by such an influential organisation.
A Northern Bloc freezer had been located within Mare Street Market throughout the month with the offering of FREE ice cream to the public. Members of the Vegan Society informed me that this had gone down very well which was so great to hear!
During my time at the party I found myself having an interesting debate with a group of Vegan Society employees – the topic was whether or not they should be promoting large companies such as KFC for their new vegan products. Yes, there is the argument that this company has for many years exploited the use of animals so the ethos of the company is not one that a vegan would agree with. However, the resounding opinion of this conversation was that the positive changes companies such as KFC are making towards creating plant-based choices shows that times are CHANGING. If someone that would normally order a meat burger instead orders the vegan alternative that is one small step in reducing the demand for animal-based products.
By companies such as KFC introducing a vegan burger it normalises veganism to a diet your 'average Joe' can adhere to. It is one huge step towards changing the mindset of the public that vegans aren't all activist extremists with placards or that vegan meals can only be bought in small independent vegan cafes. I personally believe the promotion of tasty vegan food such as the KFC vegan burger and of course the Northern Bloc vegan ice cream range are pivotal ways that we can both promote, celebrate and enjoy living the vegan lifestyle.
I really hope you have enjoyed this blog article on my Veganuary experience, I hope it has persuaded you to perhaps give veganism a try (if Northern Bloc Peanut Chip ice cream hasn't already!).
References
Kristensen, N.B., Madsen, M.L. and Hansen, T.H. 2015. Intake of macro- and micronutrients in Danish vegans. Nutrition Journal 14, pp.115.
Palmer, S. 2016. Meeting Your Nutrient Needs On A Vegan Diet [https://www.happycow.net/blog/meeting-your-nutrient-needs-on-a-vegan-diet/]
ChefJodie (aka Me), 2020. Healthy Food Recipes and Advice
[https://jodieseangrant.wixsite.com/chefjodie]
Mueller, M., Hobiger, S. and Jungbauer, A. 2010. Anti-inflammatory activity of extracts from fruits, herbs and spices. Food Chemistry 122, pp.987-989.